National Bernstein Masterclass Series & Piano Competition



The Bernstein Piano Competition is proudly Australia's longest running branded piano competition.
Since 1988, the Bernstein Masterclass and Piano Competition series has encouraged generations of piano students, with performance and competition experience, outstanding cash prizes and beautiful trophies.
This event has developed with the guidance of principal members of the renowned Team of Pianists, who continue to have a great involvement, as guest teachers and adjudicators.
Please read further for details of this year's Bernstein Masterclass and Piano Competition, including our exceptional selection of guest teachers.
How to Enter: Entry to the Bernstein Piano Competition is through participation in a Bernstein Masterclass session. Two students from each Masterclass session are selected by the guest teacher and invited in writing to compete in the Bernstein Piano Competition on October 6th, 2019.
---
Bernstein Piano Masterclass 2019
Under 12 Years
13 - 16 Years
Teacher
Junior Ticket
Senior Ticket
Perth
Saturday 13th July
1:00pm
1:00pm
Pending
Complete
Brisbane
Sunday 25th July
3:30pm-5:00pm
3:30pm-5:00pm
Mark Gibson
Call : 33563299
Monday 26th July
6:00pm-7:30pm
6:00pm-7:30pm
Mark Gibson
Call : 33563299
Melbourne
Wednesday 3rd July
10am - 11.30am
12.30pm- 2.30pm
Mira Jakopanetz
Complete
Complete
Thursday 4rd July
10am - 11.30am
12.30pm- 2.30pm
Sonny Chua
Complete
Complete
Saturday 6th July
10am - 11.30am
12.30pm - 2.30pm
Darryl Coote
Complete
Complete
Saturday 13th July
10am - 11.30am
12.30pm - 2.30pm
Kenji Fujimura
Complete
Complete
Saturday 21st September
10am - 11.30am
12.30pm - 2.30pm
Mikhail Solovei
Full- Join Waitlist
Full- Join Waitlist
Monday 23rd September
10am - 11.30am
12.30pm - 2.30pm
Tamara Smolyar
Full- Join Waitlist
Full- Join Waitlist
Would you like to do better in your piano exams? Get more from your piano lesson? Then participate in a BERNSTEIN Masterclass!
Who is it for?
Bernstein Masterclass Series is a fantastic performance and learning experience for young piano students. It is design for students age 8 to 16, who are preparing for exams and recitals.
How does it work?
Students prepare one piece of up to 5 minutes to perform on a grand piano, in front of a small, encouraging audience. The guest teacher will then offer valuable feedback and constructive criticism to hlep the student improve their playing. Participates are also able to hear and observe other student's performances.
What are the benefits?
When students participate in the Masterclass session, they receive great advice to help develop their skills, plus the rare opportunity to play for a renowned pianist/educator, and valuable performance experience to help curb nerves for future performances. Students also broaden their knowledge of other repertorie outside of their own pieces by observing other student performances, which is a vital help to their future studies. Students receive a participation certificate to acknowledge the experience. Two participants from each Bernstein Masterclass session will be selected by the guest teacher and invited in writing to compete in the National Final of the Bernstein Piano Competition on Sunday October 6th, 2019.
Conditions (Please note):
Due to copyright laws, performers must only use an original copy of music.
No photography or video footage allowed.
Enrolments close 7 days prior unless already full.
One Masterclass entry per student per year. Students can "waitlist" for a second Masterclass should space become available.
2019 Bernstein Piano Competition
Junior: 11am, Sunday 6th October 2019
Senior: 2pm, Sunday 6th October 2019
The National Final of the BERNSTEIN® Competition is held at Bernies Music Land in Ringwood, Victoria and includes finalists selected from Melbourne, Sydney, Perth, Brisbane, Cairns and Shepparton Regional BERNSTEIN® Masterclasses and heats.
Students wishing to compete must participate in a Masterclass sessions and may be invited by the teachers (in writing) shortly after the Masterclass. The minimum standard for participation in the National BERNSTEIN® Competition is:
Under 12: grade 3 AMEB or equivalent
13-16 years: grade 5 AMEB or equivalent
ADJUDICATOR ANNOUNCEMENT
Bernstein Australia is proud to announce the Adjudicators for the 2019 National Bernstein Piano Competition.
Held on October 6th in Melbourne, both Junior and Senior division finals will be adjudicated by Mr Hoang Pham and Mrs Judith Lambden.
With numerous awards to his name, including Best Australian Pianist at the Sydney International Piano Competition, Hoang Pham is one of our country's most sought after pianists. He is very excited to be part of this historic competition, which began in 1988 and looks forward to hearing the next generation of young pianists.
Judith Lambden is an acclaimed adjudicator and we look forward to her valuable input.
Audience seats are available and can be booked online here or by phoning 9872 5122.
---
2018 Bernstein Piano Competition
I would like to start by thanking all the participates, teachers, masterclass judges and parents for making it yet another successful year of this Masterclass Series. I can report that we have had the most overwhelming response, every masterclass this year was sold out and had to be extended! I am very much looking forward to organising it for next year, keep an eye on this space for updates!
The competition was filled with international flavours this year with a wide range of piece being selected, from Scarlatti to Alexander Peskanov it covered 5 continents! The winners played to a pack audience on the day, with James Deng taking out the junior section and Steve Widjaja in the senior section. The adjudicators were Mrs. Helene Hatton and Mr. Darryl Coote. The piano used was a Bernstein semi-concert 218 grand piano which all competitors made a beautiful sound from.
Senior 1st Prize $300 cash.
Junior 1st Prize $200 cash
With the prize money totaling over $950, the National Bernstein Piano Competition continues to encourage young performers to push for musical excellence. I will like to thank Bernstein Australia for their continual support for 31 years and I look forward to doing it all again in 2019!
Kind Regards,
Lester Cheung M.MUS
Piano Division Manager
BERNSTEIN PIANO COMPETITION 2018 Winners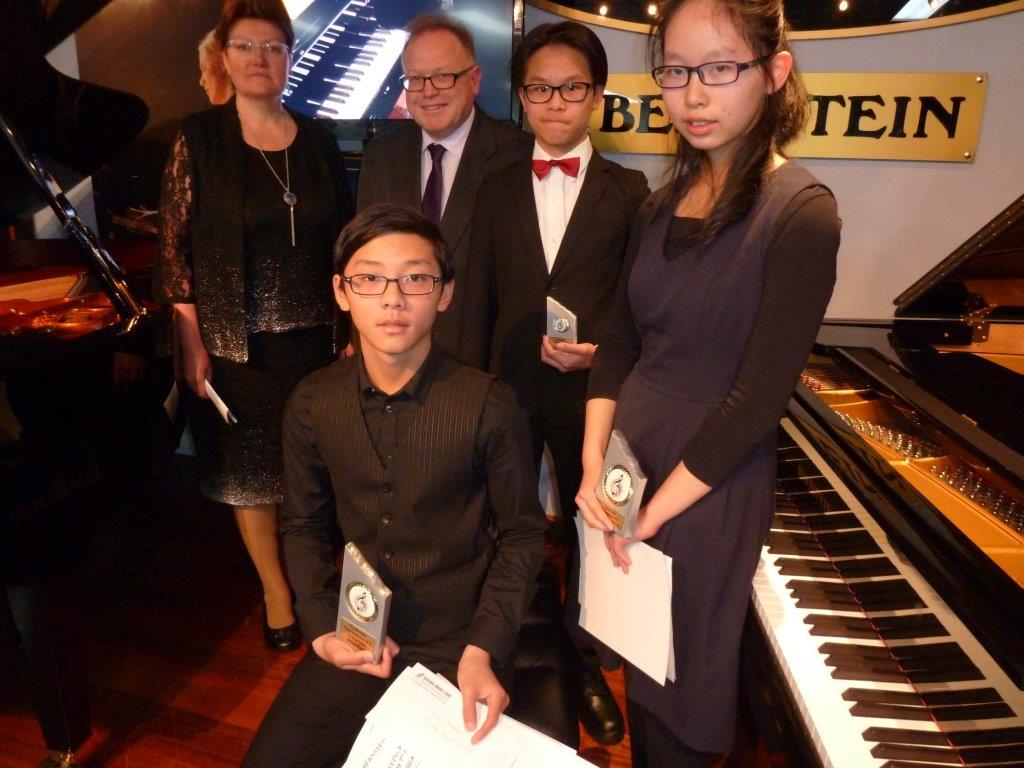 BERNSTEIN PIANO COMPETITION 2017 Past Winners