National Bernstein Masterclass Series & Piano Competition



The Bernstein Piano Competition is proudly Australia's longest running branded piano competition.
Since 1988, the Bernstein Masterclass and Piano Competition series has encouraged generations of piano students, with performance and competition experience, outstanding cash prizes and beautiful trophies.
This event has developed with the guidance of principal members of the renowned Team of Pianists, who continue to have a great involvement, as guest teachers and adjudicators.
Please read further for details of this year's Bernstein Masterclass and Piano Competition, including our exceptional selection of guest teachers.
How to Enter: Entry to the Bernstein Piano Competition is through participation in a Bernstein Masterclass session. Two students from each Masterclass session are selected by the guest teacher and invited in writing to compete in the Bernstein Piano Competition.
---
The 2019 Bernstein Piano Competition National Final
The breathtaking finals of the 2019 National Bernstein Piano Competition were held at Bernies Music Land on Sunday 6th October.
In 1988, Professor Max Cooke and the Team of Pianists created a competition which not only challenged students, but first provided an encouraging educational experience by way of "Piano Masterclass". This format has continued since. For over 30 years, the Bernstein Masterclass and Piano Competition Series has given young piano students access to some of Australia's top piano educators, offering valuable guidance to improving their performance. It is proudly Australia's longest running sponsored piano competition.
13 Junior and 11 Senior finalists from both the Melbourne and interstate Masterclass heats competed for cash prizes and beautiful trophies. The excitement was raised when Bernstein Australia announced an increase in the winner's cheque for both section by $50 each!
The Bernstein Piano Competition was very fortunate to be supported by the guidance of adjudicators, Mr Hoang Pham – award winner at the Sydney International Piano Competition, and AMEB examiner - Mrs. Judith Lambden.
The Competition Finals featured the amazing Bernstein 218 Konzert Grand Piano. Students were able to achieve a large array of tonal colours and very precise touch control thanks to the high specifications of this brilliant piano. .
There were many renowned teachers in the audience to support their students, one of them commenting that the standard of this year's competition was equal to a University concert she had seen the day before!
The results were one of the closest even seen. It gives me great pleasure to announce the 2019 winners:
BERNSTEIN® Piano Competition 2019 Junior Division
1st Place: Tianyi Sun, 9 years old, Teacher: Betty Vergara-Pink
2nd Place: Louis Fan (Brisbane representative), 10 years old
3rd Place: Julia Rozenkova, 8 years old
Honourable mention to Lulu Yao, 12 years old
BERNSTEIN® Piano Competition 2019 Senior Division
1st Place: Nicholas Khong 14 years old, Teacher: Glenn Riddle
2nd Place: Chris Tsang 14 years old
3rd Place: Aiden Abbott 15 years old
Honourable mention Ksenia Bendrycheva 15 years old
Bernstein Australia would like to extend a very warm thank you to each of the students who participated in Bernstein Masterclass sessions around Australia. An extra special thank you is extended to parents and teachers of these students, who provide outstanding support and encouragement.
Would you like to do better in your piano exams? Get more from your piano lesson? Then participate in a BERNSTEIN Masterclass!
Who is it for?
Bernstein Masterclass Series is a fantastic performance and learning experience for young piano students. It is design for students age 8 to 16, who are preparing for exams and recitals.
How does it work?
Students prepare one piece of up to 5 minutes to perform on a grand piano, in front of a small, encouraging audience. The guest teacher will then offer valuable feedback and constructive criticism to hlep the student improve their playing. Participates are also able to hear and observe other student's performances.
What are the benefits?
When students participate in the Masterclass session, they receive great advice to help develop their skills, plus the rare opportunity to play for a renowned pianist/educator, and valuable performance experience to help curb nerves for future performances. Students also broaden their knowledge of other repertorie outside of their own pieces by observing other student performances, which is a vital help to their future studies. Students receive a participation certificate to acknowledge the experience. Two participants from each Bernstein Masterclass session will be selected by the guest teacher and invited in writing to compete in the National Final of the Bernstein Piano Competition.
Conditions (Please note):
Due to copyright laws, performers must only use an original copy of music.
No photography or video footage allowed.
Enrolments close 7 days prior unless already full.
One Masterclass entry per student per year. Students can "waitlist" for a second Masterclass should space become available.
Bernstein Competition Terms & Conditions
By accepting to participate you agree and acknowledge
- The student/parent/guardian consents to and authorises Bernstein Australia to take and use any photos or moving pictures through the course of the Bernstein Competition & Masterclass series, and to use those items for promotional purposes without laying claim to royalties etc.
- Photos or video/aural recordings taken by audience members are strictly prohibited during the competition
- The time limit specified (6 minutes Junior & 8 minutes Senior) will be adhered to strictly. Performances over time limit may not be eligible for prizes. A leeway for pause between pieces is allowed and considered by the judges
- Each competitor must select 2 pieces in contrasting style, no exceptions will be allowed
- All competitors must provide ORIGINAL copy of performance material for the adjudicators. In the event where the performer is using the original copy for their performance, a clear photocopy must be presented to the adjudicators. The photocopy will be destroyed at the end of the competition. These rules are in accordance with the Government Copyright Legislation, no variation permitted
- No changes in the program are allowed after the closing date
- Adjudicators shall observe proper ethical conduct at all times in dealing with competitors, teachers, and others having an interest in the outcome of any section. Communication with an adjudicator either by a competitor, teacher, or other interested party during the competition is strictly prohibited
- The adjudicator's decision on the result will be final
- Bernstein Australia reserves all rights relating to the above points and any other aspect of the Bernstein Competition
---
2018 Bernstein Piano Competition
I would like to start by thanking all the participates, teachers, masterclass judges and parents for making it yet another successful year of this Masterclass Series. I can report that we have had the most overwhelming response, every masterclass this year was sold out and had to be extended! I am very much looking forward to organising it for next year, keep an eye on this space for updates!
The competition was filled with international flavours this year with a wide range of piece being selected, from Scarlatti to Alexander Peskanov it covered 5 continents! The winners played to a pack audience on the day, with James Deng taking out the junior section and Steve Widjaja in the senior section. The adjudicators were Mrs. Helene Hatton and Mr. Darryl Coote. The piano used was a Bernstein semi-concert 218 grand piano which all competitors made a beautiful sound from.
Senior 1st Prize $300 cash.
Junior 1st Prize $200 cash
With the prize money totaling over $950, the National Bernstein Piano Competition continues to encourage young performers to push for musical excellence. I will like to thank Bernstein Australia for their continual support for 31 years and I look forward to doing it all again in 2019!
Kind Regards,
Lester Cheung M.MUS
Piano Division Manager
BERNSTEIN PIANO COMPETITION 2019 Winners





BERNSTEIN PIANO COMPETITION 2018 Winners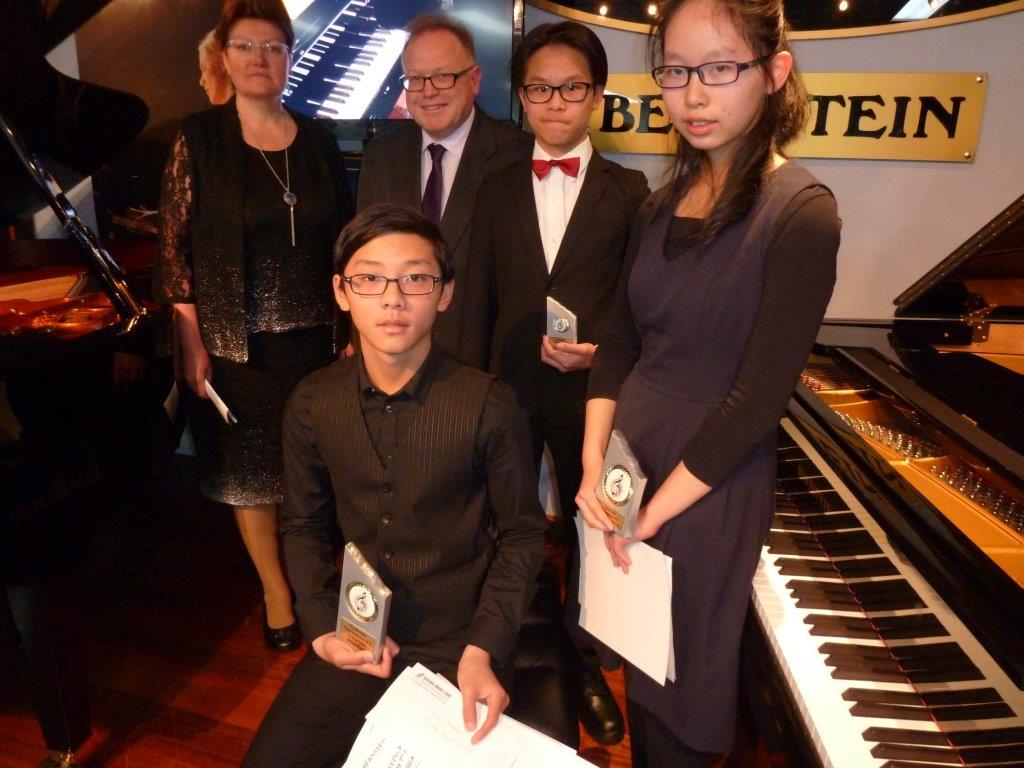 BERNSTEIN PIANO COMPETITION 2017 Past Winners